CALL FOR PAPERS
---
Introduction
The digital transformation in the business industry has been on the rise for many years, and has only been accelerated by the COVID-19 pandemic. Many industries have been forced to shift to a remote work setup to adapt to the "new normal". While the digital transformations for some businesses may have come about due to the circumstances, the changes implemented may still be improved to remain relevant in the foreseeable future.
Implementing business analytics can help reduce costs and losses and improve customer relationship management. These have become increasingly more important during the pandemic due to the shift of businesses, the economy, and customer engagements to online. Integrating a technology driven operation to businesses is also a critical challenge as business culture may struggle with the change to an online format.
Mobile and Internet of Things (IoT) applications have helped with many different types of business improvements. During the pandemic, they have helped increase the efficiency and effectivity of remote setups, particularly in the field of medicine and education. Some of the challenges of these applications are data accuracy and the integration of new technologies towards monitoring, real-time processing, and process self-optimizations. As the shift towards the new normal continues, innovations in the mobile space can help businesses cope and thrive with the challenges of the pandemic.
The education industry has taken a huge shift due to the pandemic. Schools and universities have been forced to adapt to the online setup, while some institutions have slowly been shifting to a flexible blended learning format. As we continue to adjust to the new normal, the education setup and methods of teaching and learning will undoubtedly continue to evolve.
In this special issue, we would like to focus on technology and methods used to transform businesses, particularly in these areas, during the COVID-19 pandemic and how these will continue to apply moving forward.
Suitable research/capstone topics include but are not limited to:
Custom Systems Implementation supporting Remote Business Operations
Information Technology Entrepreneurship
Business Analytics and Data Science and its Applications to Improve Businesses
Business Information Systems
Mobile Applications and Internet of Things (IoT)
Educational Technology and Technology Integrations
Information Systems in Education, Healthcare, Manufacturing, and Transportation
E-commerce
Keywords: Business Information Systems, Digital Transformation, Custom Systems, Remote Work, Information Technology Entrepreneurship, Business Analytics, Data Science, Internet of Things, E-commerce, Online Learning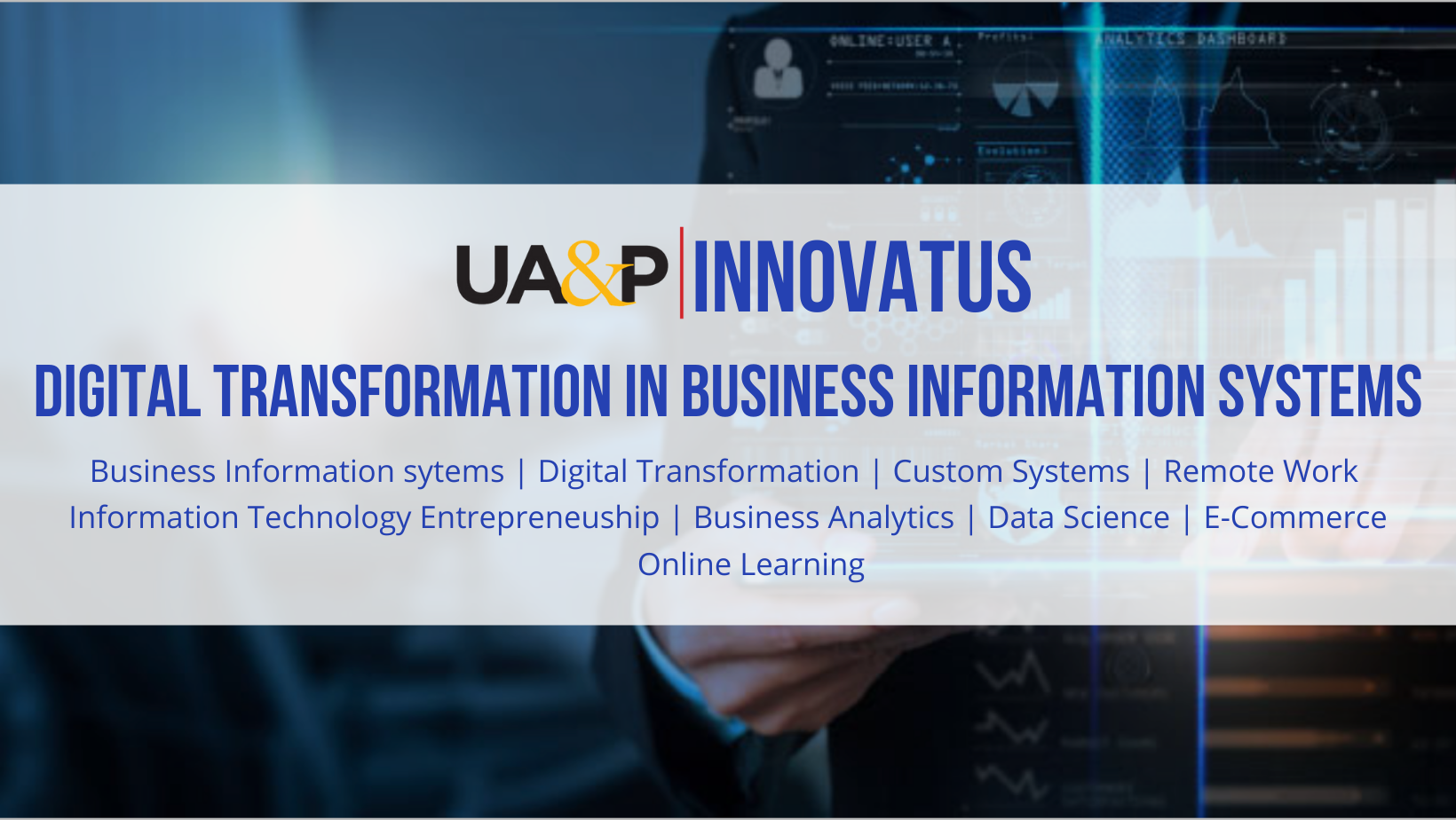 ---
Why Submit to Innovatus?
The Information Science and Technology department (IST) of the University of Asia and the Pacific (UA&P) invites all research field experts and professionals to submit industry and technical articles to the Innovatus journal, which publishes scholarly work related to: Information Technology and its Application through Business Information Systems, Business Analytics, Computer Education, and Internet of things (IoT). IST's contribution to the academic community and to its industry partners, Innovatus puts a spotlight towards quality research and industry works that advance the role of Information Technology in society.
Innovatus aims to be the publication venue that engages in Information Technology research conversation through:
Research Ideas and Industry Insights - Innovatus accepts paper submissions focused on applied research and its impact on the IT industry and businesses.
Research Dissemination - Innovatus aims at expanding the distribution of quality research work through Philippine E-Journals and Google Scholar.
Quality Expert Reviewers - Research papers will be evaluated by experts from Innovatus connections in the academe and industry.
Industry Representation - Innovatus is guided by a blend of academicians and industry practitioners in the editorial board.
Quick Feedback - Innovatus ensures quick turnaround time so that authors will know immediately regarding the first decision on their submitted article.
Open Access - Innovatus supports open access research which can lead to higher visibility of published articles that can further enhance future research works and citations.
Papers submitted under this category will require a peer review phase with evaluators consulting the editor-in-chief regarding revisions and its acceptance for publication. The submission guidelines and the submission portal can be found here. Article Processing Charge (APC) will be waived for now.
For inquiries, please email Mr. Giuseppe Ng at innovatus@uap.asia